---
Soft worms have been a trout favorite for generations and we at Horker bring the best of the best to the soft baits game with our OLY Steelhead Worms. Our soft worms were originally designed to target the monster steelhead here in our own back yard on the Olympic Peninsula. Drift off the bottom or bobber dog under a float Horker INHALER worms live up to their name, they get inhaled.
Our steelhead worms have put fish on the bank over and over again. Once you fish them you won't regret it. Initially we only offered our softbaits to fishing guides, but now we're offering them to everyone here on our online store. In Washington our Inhaler soft worms have become a main stay for top anglers looking to have an edge against the competition. Now our Oregon brothers are killing it with our worms on their waters as well. The rest is history.
Horker Soft worms are among the most effective soft baits in the region and are excellent for catching the various runs of summer and winter Pacific Northwest Steelhead as well as salmon, walleye and bass.  It doesn't stop there, our friends out east are catching with our Inhaler worms as well, not to mention our fans up North in Alaska that are nailing the monster rainbows with our soft baits. End story, Horker Inhaler worms are kick ass! Don't believe us? How about this, you fish our baits and your not satisfied, send back any unused baits within 30 days and we'll gladly refund your money. We're so confident in our product that we have no problem offering a money back guarantee.
Horker soft baits are made of the highest quality plastics in the business. We offer several extremely effective UV colors and fish attracting glitter. We also have a variety of scents like anise, garlic, earthworm and shrimp all of which steelhead love.
Best ways to fish our Soft Worms for Steelhead
There are several effective methods of fishing soft worms for steelhead. The setups below are among our favorite and have proven effective for decades and are all excellent methods for catching steelehad.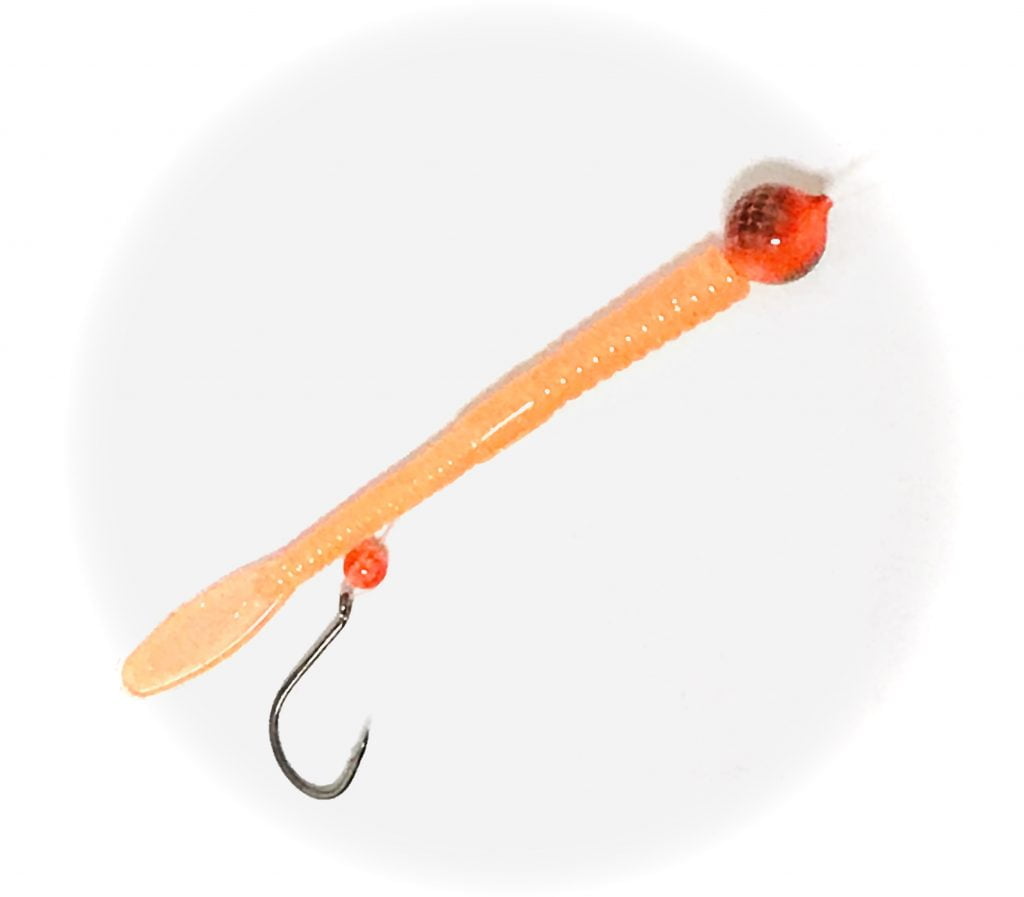 Corkie and Worm setup
Probably the most basic rig is the corkie and worm combination. Also we recommend placing a bead above the hook where it excites the worm to help prevent tearing and increase the life of the soft worm.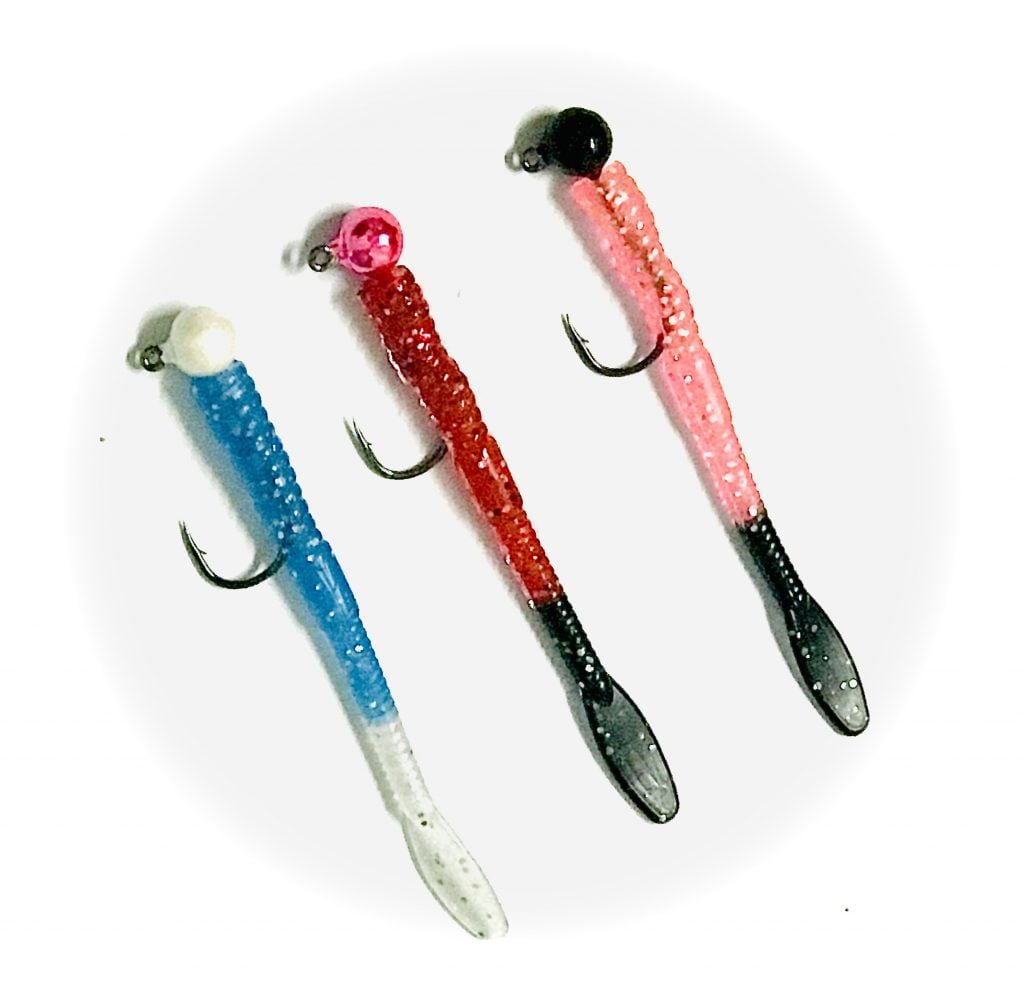 Soft Worm Jig
The Soft Worm jig under a float has probably taken more steelhead than almost any other lure in the soft bait game. They are super easy to set up and work great.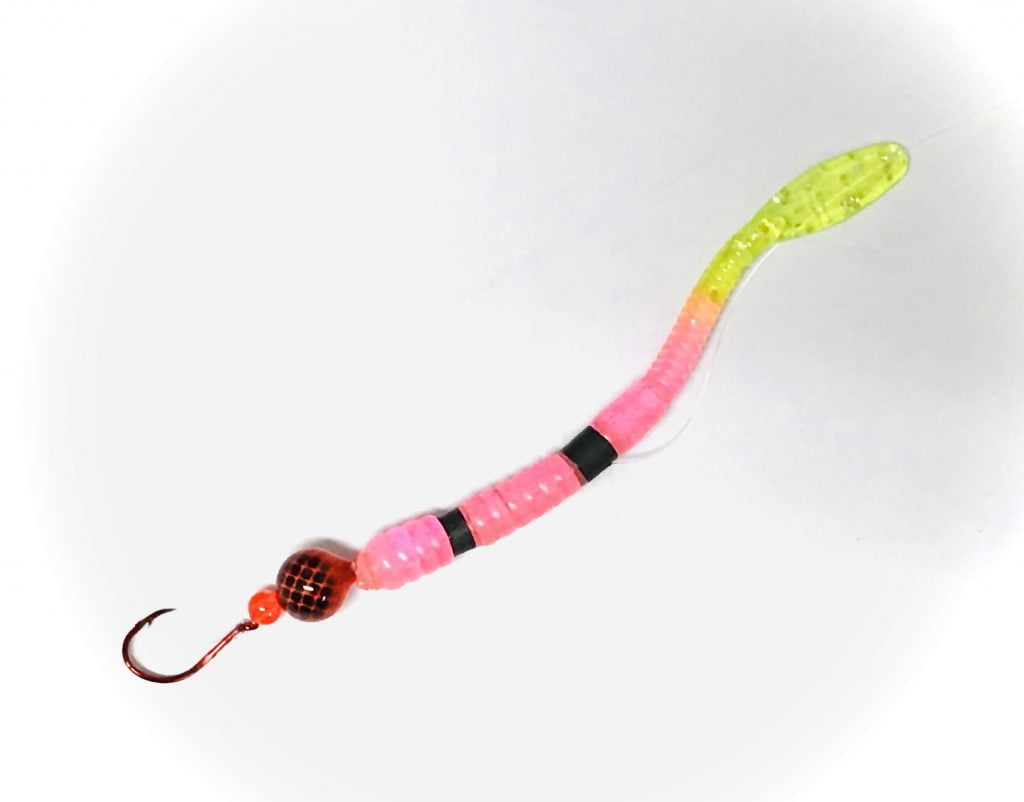 Upside Down Worm Rig
This setup is great. You rig the worm upside down so the hook doesn't tear up the worm. Also we've modified it here with some heat shrink yet further increasing the life of the bait.
Selecting Colors
Steelhead love the pink worm, we recommend you have a few pre-tied and ready to fish before you hit the water. ur Our pink steelhead worm with pearl tail is the color to start with in clear water but don't overlook variations including ones with a pink body with chartreuse tail or our cooked lobster.
The orange or chartreuse nightmare or bloody nightmare are all goods choice for clear for slightly colored water after a recent rain. Our Blue Thunder or Rocket worms are killer effective for these water conditions as well.
In high water or muddy conditions with low visibility our Back in Black worms with the black body and red tail work well or our blood craw or chocolate nightmare worms work great as well.
It's always good to have a few variations including some with our shrimp, garlic or anise scent. When fishing soft worms that are infused with scent if your bait is dried out a bit it's still a good idea to apply scents to the worm, float and even rub it up the leader.
If you'd like to try our Horker Inhaler steelhead worms, place an order today and find out why our customers will never go back to the big box stores. Horker, Killer Soft baits for serious steelhead anglers.